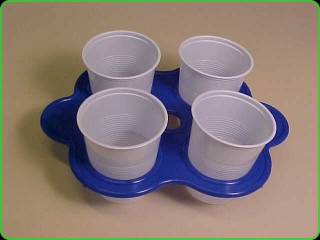 Tray for disposable cups for 4 cups
Tray for disposable cups for 6 cups
Click on the icon to see the specifications in PDF format (requires Adobe Acrobat Reader 4.x)

Tray for disposable cups for 4 cups.
Tray for disposable cups for 6 cups.

Compatible with cups of 120 cm3 and 180 cm3.
Totally impossible to turn over.
Developed in CAD (Computer Aided Design) systems.
Tray for 4 cups injected in polypropylene of white or blue color (from 500 units, the color is to election).
Tray for 6 cups thermoformed in ABS of white, black, red, green or blue color.
Totally atoxic.

Commercial installations in those that is required to increase the consumption of water, coffee or other drinks.