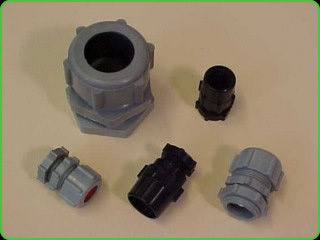 Some models of cable-presses and tube-presses
Click on the icon to see the specifications by model in PDF format (requires Adobe Acrobat Reader 4.x)

NPT cable-presses.
Electrical pitch cable-presses.
Flexible tube-presses.

NPT and electrical pitch thread between 1/2" and 2".
Cable-presses injected in polyamid 6-6 of gray color.
Tube-presses injected in polyamid 6-6 of black color.
Totally atoxic.
Self-extinguishable to the flame.
Work pressure up to 50 Kg/cm2.
Chemical resistance to hydrocarbons, solvents, non concentrated acids, etc.
Thermal resistance up to 100 °C.

Industrial installations for conduction of air, water, hydrocarbons or lubricants.
Agricultural installations for fumigation.
Domiciliary installations for conduction of drink water.
Medical installations for dialysis.