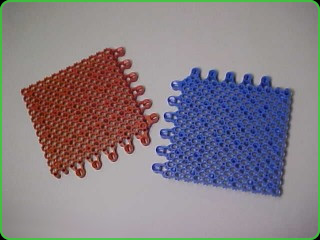 Marathon® floor
Click on the icon to see the specifications in PDF format (requires Adobe Acrobat Reader 4.x)

Exclusive system of tiles that are coupled to conform a surface that can be easily armed, dismantled, rolled, transported, stored, etc.
Completely washable.
Dimensions of the main tile: 160 mm × 160 mm × 15 mm.
Dimensions of the band tile: 160 mm × 55 mm × 15 mm.
Weight for m2: 3 Kg.
Tiles injected in polyethylene of dark green, blue or terracota red color (from 30 m2, the color is to election).

Industrial installations: work positions, machine-tools, warehouses, laboratories, wet rooms, refrigerating cameras, etc.
Commercial installations: exhibition rooms, stands, cold cameras, kitchens, corridors, etc.
Sport installations: tennis, paddle, squash and badminton courts; gyms, bathrooms, wardrobes, showers, saunas, etc.
Domiciliary installations: courtyard, laundries, garages, balconies, perimeters of swimming-pools, showers, barriers of hydro-massage, etc.