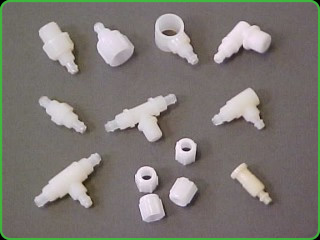 Some models of accessories for tubes
Click on the icon to see the specifications by model in PDF format (requires Adobe Acrobat Reader 4.x)

Pipe adapters with male or female thread.
Directional couplings.
Union elbows.
Combined elbows with male thread.
Combined elbows with female thread.
Union tees.
Branch tees with male thread.
Bulkhead unions.
Connectors for free nuts.

NPT threads between 1/8" and 1/2".
Injected in polyamid 6-6, acetal resin or polypropylene of natural color.
Totally atoxic.
Work pressure up to 50 Kg/cm2.
Chemical resistance to hydrocarbons, solvents, non concentrated acids, etc.
Thermal resistance up to 100 °C.

Industrial installations for conduction of air, water, hydrocarbons or lubricants.
Agricultural installations for fumigation.
Domiciliary installations for conduction of drink water.
Medical installations for dialysis.