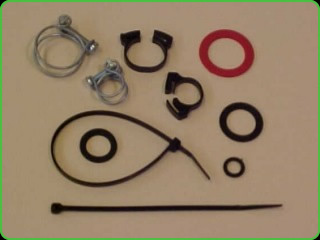 Some models of elements for fitting and sealing
Click on the icon to see the specifications by model in PDF format (requires Adobe Acrobat Reader 4.x)

Plastic clamps.
Wire clamps.
Seals.
Sealing washers.

Plastic clamps of diameter between 9 mm and 62 mm.
Injected in acetal resin of black color.
Wire clamps of diameter between 5/16" and 1".
Seals of length between 110 mm and 230 mm.
Injected in polyamid 6-6 of black color.
Sealings of diameter between 1/8" and 1".
Injected in Santoprene® of red color.
Totally atoxic.
Chemical resistance to hydrocarbons, solvents, non concentrated acids, etc.
High placement speed.

Industrial, agricultural, domiciliary and medical installations.