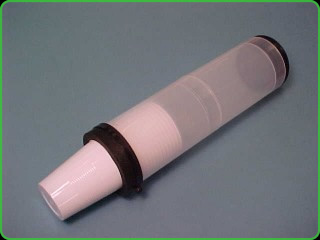 Dispenser for disposable cups
Click on the icon to see the specifications in PDF format (requires Adobe Acrobat Reader 4.x)

Compatible with cups of 120 cm3 and 180 cm3.
Variable quantity of contained cups, for joining of several container bodies.
Completely hygienic, since the hands only touch the cup to use, and they only make it external.
Container injected in translucent polypropylene.
Protective cap and dosing bearing injected in Santoprene® of black color.
Totally atoxic.
Price extremely competitive.

Dispensers of all type of cold and hot drinks.