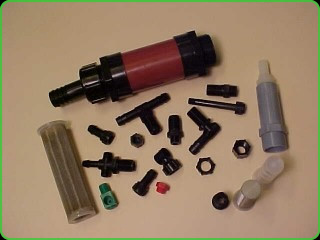 Some models of accessories for spraying
Click on the icon to see the specifications by model in PDF format (requires Adobe Acrobat Reader 4.x)

Components for atomizers.
Way downs.
Directional elements.
Components for directional elements.
Bar filters.
Line filters.
Components for line filters.
Valves for fumigators.

Components for atomizers injected in acetal resin.
Way downs built in polyamid and acetal resin.
Directional elements built in acetal resin and Santoprene®.
Filters built in polypropylene and Santoprene®; with mesh of stainless steel.
Valves built in polyamid 6-6 or brass.

Agricultural installations for fumigation, refrigeration (e.g.: in poultry sheds), etc.